Top Five List: Home Decor Blogs to Love
Currently, I am working toward becoming a teaching artist, and there is a lot more planning and paperwork then actual art making going on over here this week. Therefore, I would like to follow up last week's Style File post featuring additional inspiration on the Modern Traditional style in home decor. In honor of my son who recently celebrated his birthday and who loves to make "top 5" lists - here are my Top Five home decor bloggers who inspire the DIY, collected, cozy and bright vibe I pursue in my home as well as quilt designs.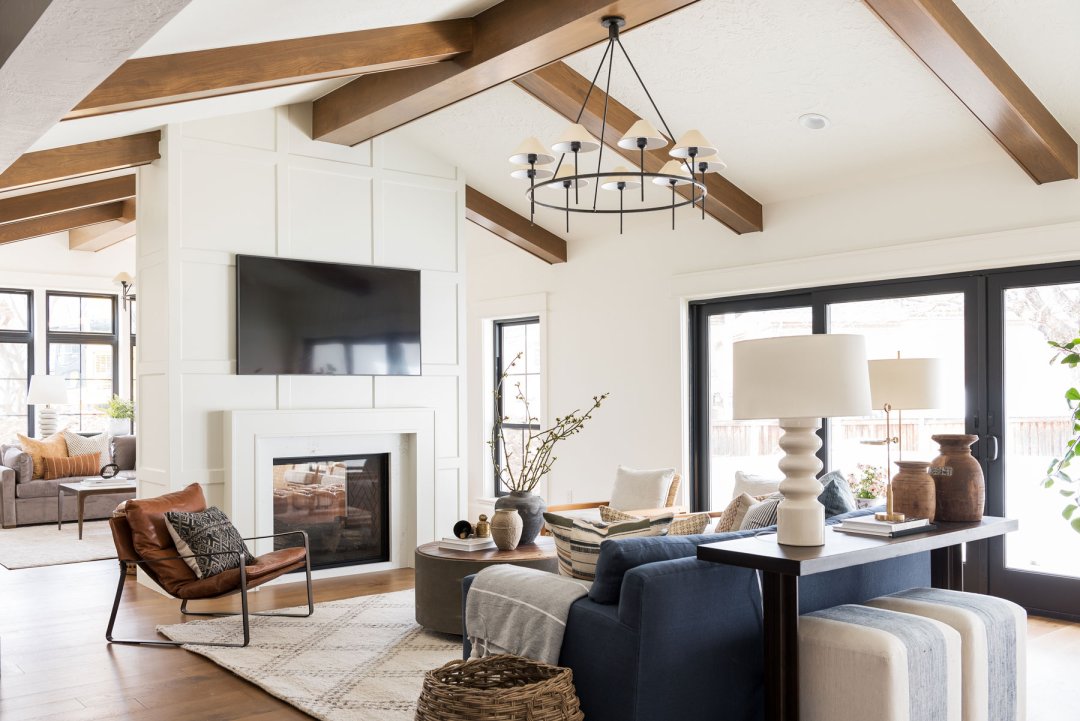 I simply love their style at McGee and Co.! It is understated and classic with a warm pallet of neutrals and plenty of texture. Replace a few of the woven blankets they feature with quilts for an even more unique and cozy look. I am currently binge watching the Studio McGee YouTube channel for even more inspiration!
Emily doesn't regularly blog about her home anymore, but her archives contain a wealth of home decor DIY stretching back about a decade. I first fell in love with Emily's style about five years ago and have really enjoyed following along as she shared very accessible home design tips and tricks for the clean and collected Modern Traditional home. She also has four children, so I appreciate how she reveals a love of style and home decor which is both beautiful, yet easy to live with.
A little more French Country than Modern Traditional, I still find a lot to love in the Miss Mustard Seed blog. There are certainly a lot of cross-over elements, such as layering texture and that collected-over-time look to each room. She shares so many DIY projects and furniture refinishing which is paramount if you enjoy finding deals at flea markets and yard sales and want to make them perfect for your home. She even has her own paint line to help you refresh your furniture and home! Her style is also one of the easiest in which to incorporate vintage or vintage inspired quilt- perfect! 
 Sarah Richardson is a Canadian design rock star. Period. Designing interiors, furniture and fabrics for around 30 years has made her a home decor mastermind and she has the rotating selection of televisions series to prove it. Sarah mixes patterns, colors and textures in her designs in a way I find truly inspirational. Though she definitely works through a variety of design styles, she and her team do Modern Traditional oh so well as you would expect. I am also currently binge watching both her YouTube design series: Sarah's Island 2.0 and Design Life.
Emily Henderson is another interior design rock star who gained fame by winning a HGTV reality tv design show nearly 20 years ago and has become rightly beloved for both her personality and style ever since. Layers, color, texture - Emily's design style is truly inspirational and does the Modern-Traditional-with-a-twist beyond compare. I love how she layers color and could see how so many wonderful quilts could be incorporated into the homes she designs. Of course she designs in more eclectic styles as well, and you can read and discover so much about home decor and interior design via her fabulously written blog. 
I hope you enjoyed the list of some of my favorite and inspirational interior design bloggers and discover, or rediscover your favorite inspirations as well! To see more of my design inspirations, follow along with my Pinterest account. Do you have a few favorite designers or sources of home interior inspiration you would like to share? Comment and share with the group! I am always on the look out for more great sources of inspiration to feed the design fire! xoxo, Janice
Inspiration and resources are linked where applicable. All written work and photographs are original content and are copyright protected; kindly give due credit by linking back to my website or source website if you use or share.
(©2019, Janice Bailor // laruedefleurs.com)